functionalities and modules
The system has all the features necessary to meet small and medium domestic producers, some specific sector (highlighted in green), other generic enough to serve to other companies that eventually our customers have.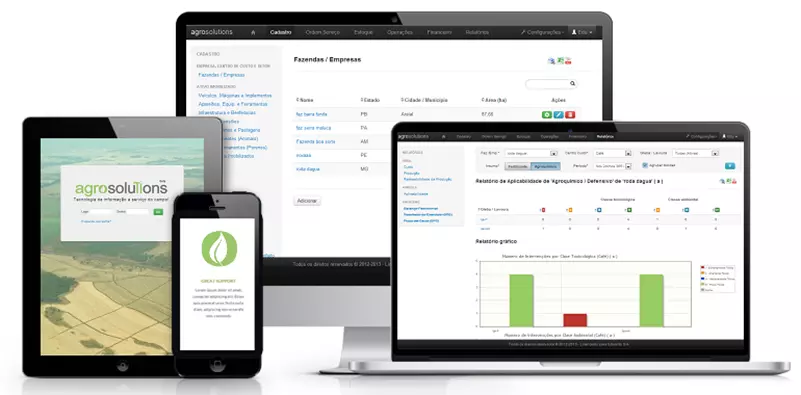 Click on a module of the system in the menu on the left and learn more about its characteristics.
Increase your company's competitiveness through a centralized and effective control of all operations carried out on your properties.

Have at your disposal management reports and objective accounts (production costs, revenue counting, return on investment, service orders, traceability, and many others!)

Measure and compare results by crops, agricultural year, cost centers and farms.
No need installation or a specific hardware, just a computer, phone or tablet with internet access to exit using the system!

Our system goes through a process continuous improvement, in which you will have immediate access to a constantly updated application.

Your data will be available in the cloud 100% of the time to query (cloud computing), also you can print or export the data to Excel and/or PDF.
Customized system with exclusive features for economy's first sector.

We've flexibility to take care of the most diverse activities within the agribusiness (coffee, soybeans, cut cattle, citrus, etc.)
If any functionality doesn't serve you completely we can study adapt it according to your needs.

You can upgrade or downgrade your plan according to your company's size, specific plans and accessible to all farms and businesses!
Relax, your data's protected! We use secure connection (https), periodic back-ups and password encryption!

In addition to access by passwords, each user is associated with a specific access profile, which guarantees specific privilege's level to operate the system. For the audit, you can also consult a record with the main actions of each user (user registration) .

All information is stored in Amazon Web Services, a company leader and global reference in Cloud Computing, which offers secure servers, free of viruses, audited periodically and with automatic recovery control in case of problems/catastrophes.
The functions are fully integrated providing a unique user experience! Whenever we think of a new functionality, we implement in the most natural way possible for the user, making the system extremely easy to use.

In addition, all the modules are available in all plans, you don't need to pay anything else and you'll not have any surprises in the invoice.
We have different support channels pre/post sale to better serve you.

Contact us Contact us by phone, email and/or Skype and we'll have the greatest pleasure in helping you and solving your doubts.

In addition, you can hire our complementary specialized consultancy for an even more efficient implementation.